Spotlight On Iran
Rouhani Lambasts IRGC's Role In The Economy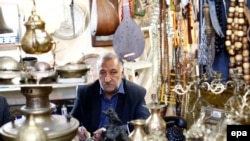 President Hassan Rouhani has re-emphasized his government's commitment to entrust more economic activities to the private sector, criticizing Revolutionary Guards Corps dominant role in the economy.
"It is a necessity to delegate economic activities to the real private sector," Rouhani said during a Ramadan fast-breaking banquet, or iftar, held late June 22 in Tehran.
In 2007, Khamenei demanded that government officials speed up implementation of the policies outlined in an amendment to Article 44 of the constitution and move towards economic privatization.
"If the policies of Article 44 of the constitution were implemented exactly, we would have a great revolution and progress," the president continued, referring to Supreme Leader Ali Khamenei's orders at the time to implement the provision.
"Yet, what did we do? A part of the economy was controlled by an unarmed government and we delegated it to an armed government. This is not [a sound] economy or privatization."
Rouhani, by using the term "armed government" referred to the Islamic Revolutionary Guards Corps (IRGC), which dominates Iran's private sector.
"They were scared of the unarmed government. [How about now that] we have given the economy to a government that is armed with guns as well as with media outlets? It is armed with every means available and nobody dares to compete with it," Rouhani said.
Meanwhile, Rouhani claimed that his government has always been committed to delegate the economy to the "real" private sector, whereas, according to economic data, former president Mahmoud Ahmadinejad government capped such efforts at 13 percent.
It was not the first time Rouhani targeted the IRGC's role in Iran's economy. In a previous speech, he lambasted the corps. "If information, guns, money, newspapers, news agencies and other hallmarks of power and authority combined into a single institution, its managers would have been prone to corruption, even if they were [Prophet Muhammad's companions] Abuzar and Salman," Rouhani said.
Although his criticism of the IRGC's role in the Iranian economy sounds bitter and vitriolic, Rouhani still preferred not to name the military force directly.
Economic analyst Fereidoun Khavand highlighted the dilemma facing the Islamic Republic in past decades: "As a significant part of Iranian economy is controlled by [state-owned foundations] and military institutions, the process of privatization and ending government's dominant role in the economy has practically reached a dead end," he told Radio Farda.
Insisting on the necessity of security for the private sector, Rouhani reiterated: "Security is not only disturbed by the Islamic State group. The government, Parliament and the judiciary are also capable of disrupting security by issuing guidelines and disrupting the market."
Economy requires a stable market, Rouhani continued. "All the branches of the system should provide security for the private sector," he added.
See all News Updates of the Day