Spotlight On Iran
Rohani Scorecard: Did Iran's President Deliver?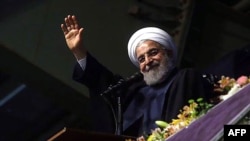 When Hassan Rohani was elected as Iran's president in June 2013, he assumed power at a time when the Islamic republic was facing unprecedented sanctions, international isolation, and a worsening economy that was a source of discontent at home.
Rohani, a relative moderate, won the election on promises to improve ties with the West, secure more freedoms to the Iranian people, and revive the recession-hit economy.
As he seeks a second term in office four years later, his critics are lashing out -- accusing him of failing to deliver on many pledges, and knocking those that he pulled off.
Here's a look at how Rohani fared on the main challenges he faced:
FOREIGN POLICY
"This [election] victory is a victory for wisdom, moderation and maturity...over extremism." -- Hassan Rohani upon scoring a landslide, first-round win in June 2013.
Rohani took over from Mahmud Ahmadinejad, a hard-line conservative whose two terms in office were marked by anti-Western rhetoric, threats to Israel, and defiance in the face of international scrutiny of his country's controversial nuclear program. The confrontational polices made Iran an international pariah, and led to the imposition of international sanctions that hit the country's economy hard and hampered its ability to conduct trade.
Rohani indeed toned down the rhetoric, promising to constructively engage with world powers, end the tense standoff over Tehran's nuclear program, and open Iran to new business opportunities.
End Iran's International Isolation -- PASS
"The new government feels there is a fresh opportunity for interaction at the global level." -- Rohani, June 2013
The new president made unprecedented conciliatory gestures to world powers. In 2013, there was a historic telephone with then-U.S. President Barack Obama, the first such contact between leaders of the two countries since they broke off diplomatic ties following the 1979 Islamic Revolution. In 2016, he made the first trip by an Iranian leader to Europe in 16 years, meeting with European leaders and the pope.
Rohani also made a new push for nuclear negotiations that culminated in the landmark July 2015 nuclear agreement with world powers, a deal that is held up as the main achievement of the Rohani presidency and which initially exhibited a thaw in relations with the West.
Rohani also extended a hand to some of Tehran's traditional adversaries. He described archrival Saudi Arabia as "a brother," and in 2013 wished Jews around the world a happy Rosh Hashana, the Jewish New Year. Regional tensions persist, however, fueled in large part by wars in Syria, Yemen, and Iraq where Tehran has supported its Shi'ite allies to the chagrin of the Sunni-dominated Persian Gulf states. Israel has maintained its strong opposition to the nuclear deal and questioned Tehran's honesty.
Iran's Supreme Leader Ayatollah Ali Khamenei, meanwhile, has criticized Rohani for saying his rapprochement policy toward the West had caused the threat of war to diminish. "What protected this country during all these years against aggression, and the enemy's intrusion, is the presence of the people," Khamenei said just three weeks before the May 19 election.
Lift International Sanctions -- PASS
"You should know the nuclear issue and the sanctions will also be resolved, and economic prosperity will also be created." -- Rohani, June 2013
Rohani's team told the Iranian public that all international sanctions would be removed immediately after the implementation of the agreement in January, despite Washington's assertions otherwise.
When the nuclear deal worked out in the summer of 2015 was implemented in January 2016, the United Nations lifted all nuclear-related sanctions and the European Union lifted many bilateral sanctions. But removing U.S. sanctions was trickier, with those related to Iran's nuclear activities taking months, owing to bureaucracy and stipulations worked into the deal under which Iran had to prove it was meeting the terms of the deal.
Even when all U.S. nuclear-related sanctions were lifted, Washington maintained or added unilateral sanctions linked to Iran's human rights record, alleged support for terrorism, and its controversial ballistic-missile program.
Such sanctions have severely affected Iran's "access to [international] trading relationships, access to foreign investment, and access to finance," says Scott Lucas, an Iran specialist at Birmingham University in Britain and editor of the EA World View website.
Tehran accused Washington of foul play when all sanctions were not immediately removed after the deal was signed, with Khamenei saying it showed "devilish" U.S. intentions.
Rohani has been accused by the deal's domestic opponents of misleading the Iranian public and overhyping the nuclear deal.
Supreme Leader Khamenei, who has final say on all state matters, has criticized the deal and emphasized a "resistance economy" and warned against Western "infiltration" through the agreement.
ECONOMY
"My message to the Iranian nation is that we should all get ready for a jump in production, a jump in economic growth, and an economic boom because of the new conditions that are ahead of us." -- Rohani, October 2015
Despite promises of an economic boom, Iran has been unable to reap the full benefits of the nuclear deal for a variety of reasons, including resistance among hard-line conservatives to opening up the state-controlled economy, residual U.S. sanctions, and European companies' continued wariness of investing in Iran because of fears of U.S. penalties.
"He has stabilized the situation, which was deteriorating very badly," says Steve Hanke, an economist teaching at Johns Hopkins University in Baltimore. "Now the situation is one of stability and modest improvement. Rohani has succeeded in turning the corner."
The economic progress Rohani's government has made has yet to trickle down to the average Iranian household in terms of jobs, salaries, and the price of basic goods. Reports from Iran suggest there is rising public frustration over a lack of tangible benefits from the deal. Most respondents in a recent poll said they believe the nuclear accord has not improved the life of average Iranians.
Hard-line clerics, the judiciary, and the powerful Islamic Revolutionary Guards Corps (IRGC) have complained that Rohani conceded too much in the nuclear deal while obtaining little in return. They have said that under Rohani, the number of poor Iranians has increased.
"This deal was like a check that the government has been unable to cash," said Ebrahim Raisi, a hard-line conservative cleric who is considered Rohani's main rival in the upcoming vote.
"Why can't we run the country better despite all of our resources? Because we don't have effective management, and corruption doesn't allow it," said Tehran Mayor Mohammad Baqer Qalibaf, a conservative who was among the candidates vying for the presidency before he dropped out on May 15.
Boost Growth, Jobs -- INCOMPLETE
The main economic indicators indeed point to improvement in Iran. Economic growth is projected to reach 4.3 percent and 4.8 percent in 2016 and 2017, respectively, compared to 0.5 percent in 2015.
The International Monetary Fund (IMF) says that "increased activity" in agriculture, car production, trade, and transport services has led the recovery in growth in the nonoil sector.
The improvement in growth, however, has not translated into more jobs. The unemployment rate rose to 12.4 percent last year, up 1.4 percentage points from the previous year.
Increase Oil Output To Presanctions Level -- PASS
Iran has dramatically increased its oil output to 4 million barrels a day (bpd), the level it produced before sanctions, from as low as 1 million barrels when it was under sanctions. Today, Tehran exports 2 million barrels of oil per day. Without the nuclear deal, Rohani said that figure would only be 200,000 bpd.
But low oil prices, which have fallen from over $100 a barrel in 2014 to around $50 recently, have limited the gains for Iran's economy and budget revenues.
Increase Foreign Investment -- INCOMPLETE
Rohani said recently that the way to tackle unemployment was to attract $140 billion in foreign investment to modernize the oil-and-gas, transportation, and telecommunication sectors. When selling the deal, the president mentioned access to lucrative markets as a major benefit.
There have also been potentially lucrative understandings with the French firm Total and Russia's Gazprom to develop major oil and gas fields in Iran. But so far, none of these deals have come to fruition.
Rohani has also delivered on promises to the Iranian people by signing headline-grabbing agreements to purchase long-desired passenger aircraft from the U.S. firm Boeing and its European rival, Airbus. The deals were seen as a symbolic benefit of dealing with the West, and while the planes have been ordered, most deliveries are not expected until 2018.
DOMESTIC POLICY
"What I truly wish is for moderation to return to the country. This is my only wish. Extremism pains me greatly. We have suffered many blows as a result of extremism." -- Rohani, June 2013
Rohani assumed power after two terms of Ahmadinejad, whose reelection in 2009 was seen as based on fraud and sparked the largest demonstrations in Iran since the Islamic Revolution. The protests brought a harsh crackdown on demonstrators and the opposition Green Movement, with thousands arrested and hundreds jailed, including the protest leaders.
Rohani promised to expand individual freedoms and civil liberties that were eroded following the protests. He also pledged to lessen censorship and state restrictions on people's lives. But the general "openness" he pledged has yet to materialize.
"Despite his efforts to open up political and social space, Rohani has always been contained by the supreme leader, the judiciary, and the Revolutionary Guards," analyst Lucas says.
The supreme leader -- not the elected president -- controls Iran's armed forces and makes decisions on security, defense, and key foreign-policy issues. The president sets the country's economic policies, domestic social and education programs, and some public works. The president also has some say in the level of media freedom and political openness. However, he can be overruled by the clerical establishment by way of the judiciary or the IRGC.
Free Political Prisoners -- FAIL
High on his list was to free political prisoners, which has gone largely unfulfilled. Rohani vowed to work to end the house arrest of opposition leaders Mir Hossein Musavi and reformist cleric Mehdi Karrubi. The two Green Movement figures, along with Musavi's wife, Zahra Rahnavard, have been under house arrest since February 2011.
In September 2013, about a dozen political prisoners were released. But the move has proved an isolated incident.
"Rohani may want to free political prisoners but he does not have the power to do so," Lucas says. "The supreme leader will ensure that this is still the case if the president is reelected."
Many pro-reform Iranians remain concerned about the oppositions leaders' house arrests. Rohani's supporters chanted Musavi's name at one of his recent campaign events, according to a video posted online by young reformists supporting him.
Unblocking Social Media -- FAIL
"We have to give people a free hand; we shouldn't intervene so much in people's private lives and culture." -- Rohani, June 2013
Rohani spoke out against tough state censorship and promised to end Iran's "security atmosphere."
The Islamic republic blocked access to YouTube and Western social-networking sites such as Facebook and Twitter after the post-2009 crackdown. That has led Iranian authorities to create one of the largest Internet filters in the world, although its citizens continue to access Western websites by using virtual private networks (VPNs), on which the authorities have clamped down.
In 2012, Iranian officials said they were planning to create a national intranet that would be largely isolated from the World Wide Web, saying the internal system would protect the public from "un-Islamic" content. The project has not been fully implemented.
In November 2013 there were reports that the government had met to discuss unblocking access to Facebook and Twitter, triggering a backlash against Rohani.
Hard-liners oppose social media, which they describe as tools of Western intelligence agencies and "Zionists."
In 2014, Rohani said in order to unlock access to social media there would need to be "coordination" between other parts of the government, suggesting it was out of his hands.
"Access to Internet and connectivity speeds improved significantly under Rohani," says Ali Vaez, a senior Iran analyst at the International Crisis Group. "This is why social media have now become the main platform for electoral debate. But he could not go as far and as fast as he wanted, given resistance from other power centers."
Establishing Ministry Of Women -- FAIL
"We will not accept the culture of sexual discrimination. Women must enjoy equal opportunity, equal protection, and equal social rights." -- Rohani, June 2014
In 2013, many women voted for Rohani, who made issues of gender discrimination part of his platform for office.
Rohani's appointment of female vice presidents -- who hold the portfolios for women, legal affairs, and the environment -- was seen as a positive step.
But he has failed to fulfill his promise of creating a women's affairs ministry, and he has not submitted a promised bill to protect women's rights in the face of opposition from conservatives.
But he has still said he is the best candidate to defend women, adding that his conservative critics want to "create segregated pavements" on public footpaths and separate the sexes in the workplace.
Analyst Vaez says Rohani had to pick his battles and the women's issue was one he could not win, considering the fierce opposition it would have prompted among conservatives.
"Rohani made incremental progress on specific issues by building new coalitions in backroom negotiations, but he refrained from actions that could jeopardize his main priorities where he had the best shot at success," Vaez explains.
See all News Updates of the Day