Spotlight On Iran
Customs Officials Involved In Large-Scale Smuggling -MP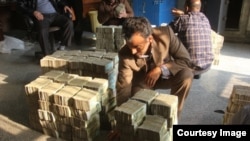 A mafia engaged in "systematic smuggling" has infiltrated many organs of the Islamic Republic, representative of Hamedan in parliament has announced, adding, "The volume of smuggling through official ports of entry is over 80% and coordinated by nobody other than the directors of customs, themselves".
Insisting on the necessity of changing customs directors and managers, Amir Khojasteh asserted, "Several documents collected in parliament's investigations on smuggling have been gone missing".
In an interview with a website close to former chief commander of the Islamic Revolution Guards Corps, Major General Mohsen Rezaei, the MP admitted, "Though, I do not know how powerful is the Iranian smuggling Mafia, but, based on my impression, it has infiltrated everywhere, backed by billions of tomans [millions of dollars].
Amir Khojasteh reiterated, "They have infiltrated everywhere and are currently seeking a way through parliament, as well".
Referring to some documents concerning corruption which he has delivered to the heads of the legislature, Khojasteh has lamented "It is a shame that nobody is held responsible for the missing documents in the parliament".
Furthermore, Khojasteh has asserted, "They are looting nation's assets and it is unacceptable to see thousands of containers being smuggled into the country through official customs ports of entry".
Meanwhile, Khojasteh asserted, customs and customs' Mafia have been unified to hit hard anybody who dares to speak-up against them.
"They are spreading hatred in and out of majlis (Iranian parliament) to the extent that forces people to keep mum about organized and systematic smuggling", Khojasteh affirmed.
The volume of smuggling through official ports of entry, according to Khojasteh is currently over 80% while customs directors and managers are involved in it.
Khojasteh said the corrupt officials must be stopped, as they try to gain influence in any way they can, even by threatening or blackmailing members of parliament.
According to Hamadan's MP, he has been threatened to keep his mouth shut, or expect unspecified consequences.
"They are leading the ruling system to a place where none of the officials dare to step in their realm and speak-up against them", Khojasteh averred.
According to the Central Task Force to Combat Smuggling of Merchandise and Currency's (CTFCS) spokesman, the overall volume of goods smuggled into Iran in 2016 amounted to $15.5 billion.
In July 2017, a senior member of Iran's parliament accused President Hassan Rouhani's government of being involved in smuggling. "A number of governmental institutions are directly or indirectly involved in smuggling," Hassan Norouzi, spokesman for the parliament's Judiciary Committee announced.
Both the conservative and reformist factions of the Islamic Republic indirectly accuse one another of being involved in smuggling.
Rouhani has also accused elements outside his administration of being involved in smuggling.
"A corrupt apparatus which smuggles goods into the country stops Iran's progress and development", Rouhani said in a speech three years ago. Many analysts at the time said that he had been referring to top commanders of the Islamic Revolution Guards Corps, whom Rouhani's predecessor, Mahmoud Ahmadinejad had described as "our own smuggler brethren".
During almost four decades since the establishment of the Islamic Republic in Iran, the question of smuggling and how to fight against it have always been one of the main topics in political debates. Nevertheless, annual figures show significant increases in the volume of smuggled goods into and out of Iran.
The number of intercepted consignments worth more than 5 billion rials (roughly $150,000) smuggled into Iran showed a 57 percent increase during the past five months compared with the same period last year, the commander of the Iranian Police Crime Unit reported last September.
During the same period, the number of legal cases filed for the uncovered and confiscated smuggled consignments worth between 1 billion and 5 billion rials also showed a 50 percent increase, the government's official news agency (IRNA) quoted Commander Mohammad Reza Moqimi as saying.
"Computer equipment, cosmetics, and hygiene products were at the top of the list of contraband goods smuggled into Iran," Moqimi said.
Fundamental action is needed to prevent and confront the flow of contraband oil products into Iran, he emphasized. "During the first five months of the [Iranian calendar year, starting March 21] current year, nearly 20 million liters of illegal oil products were uncovered, which shows a 53 percent rise compared with the same period last year."
Furthermore, according to Moqimi, the number of uncovered contraband inflammable and explosive products also showed a 27 percent rise.
See all News Updates of the Day