Spotlight On Iran
'Negative News' To Blame For Mental Illness, Says Iran's Health Ministry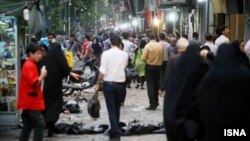 Nearly one quarter of Iranian adults suffer from a mental illness, according a new report issued by Iran's Health Ministry.
"On average, more than 23 percent of Iranian adults suffer from some type of mental illness," Health Ministry Spokesperson Iraj Harirchi announced at a press conference April 16. Although he did not elaborate on the nature of mental illness Iranians are suffering from, he said political, social, and economic "tensions," along with "negative news" have had a direct impact on the nation's psychological health.
According to the study, Iranian women are much more likely to be afflicted by mental illness, with 27.6 percent of them suffering from a disorder compared to 19.4 percent of men. He added that one in four Iranians over the age of fifteen have a mild mental illness, and severe mental illness is also present in Iranian society. Mental illness rates vary between 12.8 percent and 36.3 percent depending on the province, with 30.2 percent of people living in Tehran suffering from mental illness.
"The figures point out that one out of every three people living in Tehran is mentally ill" Harirchi said.
In a report issued about a year ago, the Health Ministry's Office of Social and Psychological Health said more than 12 percent of adult citizens of Iran were suffering from depression, and more than 14 percent from anxiety related disorders.
A 2017 report from World Health Organization (WHO) says that in a global "happiness ranking" of 156 countries, Iran ranked 105th, along with Palestine, Venezuela, Somalia, Nigeria, Pakistan, and Turkmenistan.
Norway is the happiest country, according to the report, followed by Denmark, Iceland, and Switzerland.
The report takes into account income, access to education and health care, and job satisfaction, among other indicators, to measure happiness
See all News Updates of the Day