Spotlight On Iran
Ahvaz Steel Workers Walk Out Over Three Months' Wage Arrears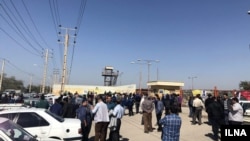 An independent Iranian labor union has reported that hundreds of steel workers continued to protest on February 21 for the fourth consecutive day outside the governor's office in the city of Ahvaz.
The workers began a strike in January to protest three months of unpaid wages and their demands being ignored by their employer, the Ahvaz Steel Industry Group.
In addition to unpaid wages, the workers called on their employer to ensure they would receive pay for this month's work. They also demanded end-of-year bonuses and that the employer's share of their insurance premiums be paid to the Iranian social security organization.
They also demanded that transportation be provided to and from their workplace.
Based on the labor union's report, officials at the governor's office in Ahvaz, the capital of Khuzestan Province, did not respond to the workers' demands.
Subsequently, the workers announced they would continue their strike and refuse to load the factory's products.
The steel workers' strike started on February 18 with 3,500 workers taking part in the walkout.
Previously, the union's channel on social networking platform Telegram had quoted one of the board members of the steel company as saying the factory's new owners have no money to pay the workers and that they must wait until the Iranian New Year (which starts on March 21) to receive pay.
According to labor activists, the protracted nonpayment of workers' salaries is one of the major problems facing Iranian workers. The problem has led to labor unrest in various parts of Iran.
These cases include a walkout earlier this month by workers of the Haft Tappeh Cane Sugar Factory, where half of the workers had not been paid since November.
Yet another strike in February was staged by workers of the Hepco heavy machinery factory in Arak who had not been paid for seven months.
Other recent cases of sit-ins, protest gatherings, and strikes reportedly took place at the Abadan oil refinery, the East Azerbaijan Province roads authority, the Rangin paint factory, the parks organization of Yasuj, the Taban construction company in Birjand, and the Mahshahr Petrochemical Plant.
The Ahvaz Steel Industry Group was handed over to Iran's judiciary after its previous owner was executed for financial corruption. The judiciary later transferred the company to Bank Melli Iran.
In October 2017, the bank gave company ownership to Abdolreza Musavi, the managing director of Zagros Airline, who also owns a major soccer club in Ahvaz and two hotels on Kish Island in the Persian Gulf.
See all News Updates of the Day