Spotlight On Iran
IRGC Continues Saber-Rattling Against The U.S.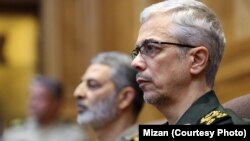 In a statement issued on May 23, the Islamic Revolutionary Guards Corps (IRGC) has threatened the United States that if it attacks Iran, the leaders in Washington will end up like the deposed Iraqi dictator Saddam Hussein.
The IRGC's statement, aired on state-run TV on the anniversary of liberating the port city of Khorramshahr in southwestern Iran, maintained, "Three decades after the Iran-Iraq War (1980-1988), Iranian armed forces have learned that they should never overlook strategic guidelines."
Meanwhile, IRGC Major General and Armed Forces Chief of Staff Mohammad Bagheri echoed the statement by insisting, "The likes of the U.S. which violate international agreements will end up like Iraq's Saddam Hussein, who was executed in 2006 over charges of crimes against humanity."
Bagheri made the remarks at an open Parliament session held on the anniversary of the liberation of Khorramshahr from the Iraqis on May 24, 1982, during the Iran–Iraq War (1980-1988), state-run Mehr News Agency, MNA, reported.
According to MNA, Bagheri likened Trump and his unilateral withdrawal from Joint Comprehensive Plan of Action (JCPOA) or Iran's 2015 nuclear deal with world powers, to Saddam Hussein tearing up his 1975 Algiers agreement with Tehran on fixing Iran-Iraq common borders at Shat-ul Arab.
However, Bagheri did not mention the fact that Saddam remained in power for 15 years after the end of the war and was eventually deposed in 2003 when the United States and its allies invaded Iraq. Three years after the invasion, Saddam was tried and hanged in December 2006.
Bagheri went on to describe the United States as a "criminal and oppressor," "isolated," and "angry with corrupted and disloyal leaders" who are "mercenaries of the Israeli regime."
He accused the United States of being afraid of "facing the Islamic Republic head-on in battle," saying, "Instead of engaging in battle with Iran, America is trying to exert pressure on Iran in the economic sector and through psychological warfare."
U.S. Secretary of State Mike Pompeo on May 21 threatened Iran with "the strongest sanctions in history" if it did not curb its regional influence, accusing Tehran of supporting armed groups in countries such as Syria, Lebanon, and Yemen.
Pompeo was speaking two weeks after President Donald Trump pulled out of an international nuclear deal with Iran that had lifted sanctions on Iran in exchange for curbs to its nuclear program.
See all News Updates of the Day