Spotlight On Iran
Hijab Promotion A Failure, Says Iranian VP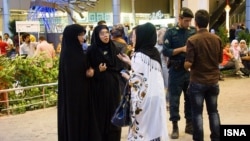 From a low of 97 to a high of 101 on the Fahrenheit scale, with no rain. That's Tehran's weather forecast for the next week. And Tehran is not even one of the hottest cities in Iran. The hotter the weather, the more women are tempted to shed layers and wear looser garments and scarves. However, that mean risking a confrontation with the "guidance patrol" or the "morality police" forces.
As the degrees go up, these forces are more in sight in larger cities in Iran, lurking to prey on their victims.
The forces, firmly backed by a 12-year-old law, have the broad, undefined power to confront women who, they believe, fail the Islamic modesty test. They can chastise, admonish, and detain any woman who they claim fails the test.
Now, for the first time, a senior member of the Iranian government has admitted that the legal project to promote hijab and punish those who violate it has failed.
"The law for promoting hijab and the project for enforcing it through the morality forces seriously needs a thorough revision," says Shahindokht Molaverdi, President Hassan Rouhani's deputy for women and family affairs.
In an interview with Iran Students News Agency (ISNA), Molaverdi said on July 18, "The revolution in communication and information technologies have significantly changed society in a tangible way."
Changes in the way people dress as well as changes in their lifestyle, testify to that, Molaverdi insisted.
She reiterated that the law should be amended and "that is a necessity."
Meanwhile, Rouhani's deputy noted, "We should admit that the repelling approach toward hijab and chastity has failed."
Molaverdi's comments were published two days after an officially marked "Week for Hijab and Chastity" wrapped up with surprising remarks of a hard-liner conservative cleric, Ayatollah Ahmad Alam al-Hoda.
"Hijab is the only thing that is not obligatory for women as the law against hijab, in spite of Reza Shah's autocratic orders, was not successfully enforced," said the supreme leader's representative and Friday Prayer leader of the holiest city in Iran, Mashhad.
Echoing Alam al-Hoda's comments, Molaverdi went further, saying, "The security approach toward hijab should be changed into a cultural one."
Furthermore, Molaverdi revealed that her office, corresponding with Rouhani and the Council for General Culture's Secretariat, has officially asked for amendment of the hijab law.
"We are prepared to cooperate with the relevant entities to change the hijab law," Molaverdi noted.
According to Molaverdi, hijab is a multisided matter. To promote modesty and chastity in society, as well as confront those who have no proper hijab, she said, "we have to implement cultural tactics."
Calling security forces in to confront women with improper hijab should be the last resort, she said.
However, as the summer heats up in Iran, the game of hide-and-seek between security forces and women considered "bad hijab" rises along with the mercury.
See all News Updates of the Day