Iran has taken its cultural censorship efforts to new levels by pressuring a filmmaker to cancel the screening of one of his films in Canada.
The film, Delighted, by Abdolreza Kahani, was due to be screened last month at an independent theater in Toronto.
But Kahani decided to cancel the screening after receiving a warning from Iran's Culture Ministry.
A source close to Kahani's production team who did not want to be named told RFE/RL that the ministry "advised" the filmmaker that if he would go ahead with the screening his other film, We Love You Mrs. Yaya, which was filmed in Thailand, would not be allowed to be shown inside Iran.
"When we announced that the film would be screened [in Canada] and tickets were sold, we received a message requesting the screening be cancelled; the message said that, if not, Kahani's [other] film – [which was] was made in Thailand and was costly -- will not receive a screening permit," the source said.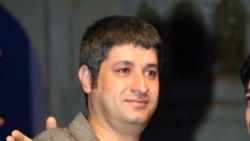 Iranian director Abdolreza Kahani (file photo)
The source added that authorities had also contacted producers, including those involved in the production of We Love You Mrs. Yaya, to convince him to cancel the November 24 screening in Toronto.
Kahani has said in an interview with Radio Canada that Delighted is the story of three women who want to have a good time in Iran and are trying to meet wealthy men in order to achieve that goal.
A Culture Ministry official was quoted in 2016 as saying that Delighted was "immoral."
Last year, a member of a committee that issues screening permits said that Delighted was problematic "from the beginning till the end." He didn't provide details but said the film was "not amendable."
Film critic Khosro Dehghan says the Culture Ministry's move to block the showing of Delighted in Canada was unprecedented.
"The Culture Ministry is not likely to confirm this issue as it would prove that the ministry won't limit itself to the country's borders -- any film that is banned here will not be allowed to be screened anywhere else in the world," Dehghan said in an interview with the daily Jamee Farda.
"The ministry has now extended its reach beyond Iran's borders," Dehghan added.
Banned At Home, Lauded Abroad
Authorities routinely ban award-winning Iranian movies from cinemas inside the country.
But until now there hadn't been any known efforts to prevent the screening of controversial movies outside the country.
Dissident film director Jafar Panahi -- who received a six-year prison sentence and a 20-year ban on directing movies in 2010 -- screened his latest film Taxi, made clandestinely, at the 2015 Berlin International Film Festival where it received the Golden Bear Prize.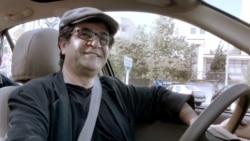 Iranian director Jafar Panahi in a still from his acclaimed movie Taxi.
Panahi told Jamee Farda that Iran should not interfere in the screening of films in other countries.
"Domestic rules should not be enforced when it comes to screening movies in other countries," he said.
"If that was the case, Iran's cinema would have never been able to grow and be introduced to the world," Panahi added.
"[Authorities] should either shut down the cinema [industry] or find a solution," he said.
Strict Restrictions
Iranian filmmakers have to follow tight censorship rules that forbid showing unveiled women, physical contact between men and women, and criticism of Islamic principles.
The strict restrictions limit the topics that can be discussed in movies.
Yet, Iranian filmmakers have managed to produce several movies that are universally acclaimed and have won many awards.
Those banned inside the country are accessible on the black market and online.
Kahani wrote in a July op-ed piece published by the reformist Sharq daily that "filmmakers don't have the right to show the reality [of life in Iran]."
"What are we afraid of? From the current realities?! People are well-aware [of what's going on] and they're far ahead of films and managers," he wrote.