Spotlight On Iran
Trump's Man In Moscow: Russia Envoy Nominee Faces Challenging Post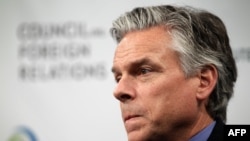 WASHINGTON -- Jon Huntsman, the former Utah governor nominated by President Donald Trump to be the next U.S. ambassador to Russia, will have his diplomatic experience and business acumen put to the test should he represent U.S. interests in Moscow.
The posting, which still must be approved by the Senate, poses particular challenges owing to official investigations into allegations that the Kremlin meddled in the 2016 presidential election that brought Trump to power. Russia has denied the claims.
A veteran diplomat who has served in the administrations of five U.S. presidents and was a candidate for the 2012 Republican presidential nomination, Huntsman has limited experience when it comes to Russia.
As former President Barack Obama's envoy to China, he helped manage Washington's challenging relationship with Beijing. The 57-year-old billionaire also served as ambassador to Singapore under President George H. W. Bush.
For months Huntsman has been touted as Trump's choice for the post even though he has been critical of his future boss in the past.
See all News Updates of the Day