The water is subsiding in flood-hit Golestan and Mazandaran provinces in northern Iran, local news outlets reported on March 23, as dozens of cities and villages have suffered from heavy rains.
The Floods might be subsiding, but the political fallout from a slow response by the government has not. It took two days for any meaningful action to the disaster, while President Hassan Rouhani was in the sunny Persian Gulf.
The Iran Meteorological Organization (IRMO) warned that some areas in the west and southwest of the country were also being threatened by freezing temperatures and flash floods.
Torrential rains over the past several days have destroyed residential areas and infrastructure in Golestan and Mazandaran, which are located along the Caspian Sea.
Torrential rains were followed by power outages in rural districts of Golestan Province, state IRINN TV reported.
"More than half of Aqqala, the capital city of Aqqala county in Golestan Province, is engulfed by flooding," the report added.
Iranian President Hassan Rouhani ordered senior officials to "make rapid efforts to provide assistance" for those affected.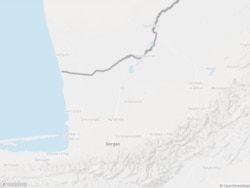 In a statement issued on March 23, Rouhani ordered Interior Minister Abdolreza Rahmani Fazli to speed up measures to help residents of the two provinces and dispatch necessary assistance from neighboring regions.
Hours earlier, Supreme Leader Ayatollah Ali Khamenei had released a statement regarding the floods in which he said that "popular and governmental systems" have an important responsibility to relieve people's suffering.
Khamenei issued an order to Chief of Staff of the Iranian Armed Forces Major General Mohammad-Hossein Baqeri calling for more facilities for flood-stricken areas, the government's official news agency, IRNA, reported.
Immediately responding to the order, Baqeri expressed the armed forces' readiness to help the flood-hit regions.
According to IRNA, flash floods have forced people in many areas to flee, and the cities of Aqqala and Gomishan in Golestan had been evacuated.
Many people took to social media to criticize Rouhani and his administration for not traveling to the affected areas.
Reportedly, Rouhani is on holiday on Qeshm Island in the Persian Gulf.
Rouhani's first deputy, Eshaq Jahangiri, arrived in the late evening of March 23 in Golestan's capital city, Gorgan.
"The Iranian government will stand by people in all difficulties," he said before firing the province's local governor who was on holiday abroad and came back only after Jahangiri's speech.
Iranian Parliament Speaker Ali Larijani also visited his homeland of Mazandaran Province.
Touring some flood-hit areas, Larijani called for aid for those affected by the disaster and preparations to restore damaged infrastructure.
After visiting Golestan Province, Rahmani Fazli said people had access to basic necessities and that aid workers were doing their best.
There has been no official report on the number of casualties from the floods.
Initial reports said nine people had died and one person was missing in Golestan, Northern Khorasan, and Mazandaran provinces.
TV footage from Mazandaran and Golestan showed massive flows of water engulfing roads and streets, cars being washed away, people struggling to walk, and traffic being disrupted.
The spokesman for the Interior Ministry, Salman Samani, said 200 billion rials (approximately $4.8 million) had been allocated for crisis management in flood-hit areas.
Several ecologists and environment experts have said the flooding is the direct result of local forests being razed and decreasing vegetation. Nonetheless, the deputy for construction to Mazandaran's governor, Mehdi Razjouyan, insisted there is no connection between the recent flash floods and upper vegetation in the area.
The IRMO has warned that torrential rains and heavy snowfall are expected to hit the western and southwestern provinces of Chaharmahal and Bakhtiari, Khuzestan, Kohgiluyeh and Boyer-Ahmad, as well as parts of Lorestan, in the coming days.