Spotlight On Iran
Turkish, Russian, Iranian Leaders Play The Autocratic Blame Game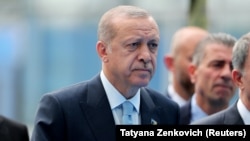 Turkish President Recep Tayyip Erdogan has a near monopoly on power in his country, wielding robust control over the economy, the media, and the army.
Yet the authoritarian leader has blamed foreign "plots" and domestic saboteurs for the currency crisis and economic hardship plaguing the country.
Having dominated Turkish politics for more than 15 years, first as prime minister and since 2014 as president, Erdogan has blamed the plummeting value of the national currency, the lira, on "economic terrorists on social media" and a "political, underhand plot" by the United States, a NATO ally.
Erdogan's provocative remarks have raised eyebrows, but the combative leader has often resorted to the blame game when his back is against the wall.
He blamed a failed coup in 2016 on U.S.-based cleric Fethullah Gulen without providing any evidence. He then instigated a massive purge on tens of thousands of alleged Gulen supporters in Turkey that rights groups said was a pretext to stifle dissent.
But Erdogan is not the only autocratic leader to condemn domestic and foreign enemies to deflect blame and attention from his own failings.
Iranian Supreme Leader Ayatollah Ali Khamenei and Russian President Vladimir Putin have also blamed Western "plots," fifth columnists, and "foreign agents" for the countries' economic and political plights.
See all News Updates of the Day