Spotlight On Iran
Diaper Dilemma Grips Iranians As Economy, Currency Slide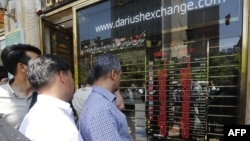 The times they are a changin'. But in Iran, families with infants are struggling to do the same.
Senior officials, industry executives, and young parents have been forced to confront a shortage of baby diapers.
"Diapers and immigration," a 36-year-old married man in Tehran, who asks to remain anonymous, says of the current buzz among colleagues.
He is married and says he considers himself lucky to be childless in light of the gloom that has descended on Iranians amid a 70-percent fall in the value of the national currency in the past year, soaring prices for basic goods and commodities, and quickly declining purchasing power.
'Missiles But No Diapers'
"I'm so glad I don't have kids when I hear my colleagues discussing the price of diapers and how difficult they are to find -- and that's on top of everything else we have to deal with," he says.
"It's ridiculous, we have a missile but we don't have diapers," he adds, punning on the Persian words for missile and diaper (mushak and pushak).
It's a jab at the country's political and economic leadership, which has described the expansion of missile capabilities for defense purposes as a top priority.
See all News Updates of the Day