Spotlight On Iran
Anti Semitic Speech By Iranian Diplomat Causes Stir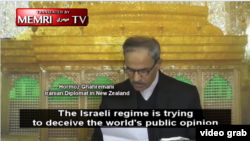 A video of a speech by the First secretary of the Iranian Embassy in Auckland has caused controversy in New Zealand.
The speech by the Iranian diplomat Hormoz Ghahremani was given at a mosque in Auckland on Quds day in June of this year. During the speech Ghahreman warns his audience "against any plots hatched by the Zionists and their international sponsors."
His co-speaker Hojatoleslam Shafie went a step further by calling the Holocaust a "fake phenomenon" and also made a prediction that the "Zionist regime" will be destroyed in 25 years. In his speech Shafie also claimed that "it is impossible to study the Holocaust" and that if Germany really did cause it then Germany should give a part of their land to the Jews.
The Israel Institute of New Zealand has complained to the Human Rights Commission of New Zealand and to the Foreign Minister.
The video was posted on the Youtube account of the New Zealand based Islamic Ahlulbayt Foundation which describes itself as the "first established Islamic Shia Organisation in New Zealand" The video has been since deleted from their account.
Video Courtesy of Memri TV with reporting by newshub.co.nz
See all News Updates of the Day