Spotlight On Iran
Ancient Engraved Signatures Of Masons Found In Iran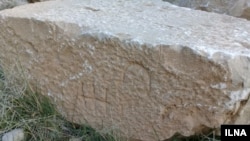 Signatures of stone masons have been discovered in a 2500-year-old site in southern Iran, the state-run Iran Labor News Agency (ILNA) cited a prominent archeologist on February 25.
The ancient autographs engraved into blocks of stone date back to the days of Cyrus the Great, ruling over the vast Achaemenid Persian Empire, says the prominent Iranian archaeologist, Afshin Yazdani.
The huge engraved stones were found in an Achaemenid diamond mine in Sivand, in the city of Pasargadae, in Fars province, southern Iran.
"Based on new discoveries, we found three different types of ancient masons' signatures", Yazdani asserted, adding, "The most clear-cut of the stones was found at the southern front of 'Takhtgah' (where the imperial throne is located)."
Based on the traditions of the time, Takhtgah was the royal palace of Cyrus' capital city. He had employed the most skilled architects and masons of his large empire to build Takhtgah's parapet.
The signatures show that the builders of Takhtgah were working under three distinct groups led by a single master stonecutter.
The engraved stones have been found 32 km (roughly twenty miles) from Pasargadae. Apparently, the stones were left there, since Cyrus died and his plan to build Takhtgah never finished.
Pasargadae is a complex of buildings, including the Mausoleum of Cyrus the Great, remains of the palaces of Achaemenid kings and successors of the legendary monarch, royal gardens, fountains and stone aqueducts.
The new discovery will help historians, anthropologists and sociologists among others to understand the mechanism and system through which the labor force was employed 2500 years ago, Yazdani believes.
Pasargadae was the capital of the Achaemenid Empire under Cyrus the Great (559–530 BC), who ordered its construction. It is located near the city of Shiraz, southeast Iran. One of Iran's UNESCO World Heritage Sites, Pasargadae includes the limestone mausoleum of Cyrus the Great, who has been praised in Jewish scripture as "messiah" and "anointed" for helping captive jews to return to their homeland. Cyrus is the only gentile (non-Jewish) figure in the Bible to be called so.
One of the few surviving sources of information that can be dated directly to Cyrus's time is the Cyrus Cylinder, now kept at the British Museum in London.
Many believe that the Cylinder is the first human rights charter ever composed.
See all News Updates of the Day