Spotlight On Iran
Afghan Governor's Dismissal Highlights Rift In Party, Risks To Unity Government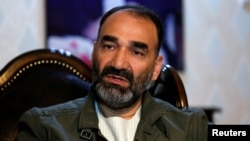 MAZAR-E SHARIF, Afghanistan -- Jawid, an ethnic Tajik shopkeeper in the northern Afghan city of Mazar-e Sharif, has been building up his small business during the past decade within a pocket of relative stability.
Now, with President Ashraf Ghani's removal of the governor of Balkh Province, Atta Mohammad Noor, Jawid says he fears the kind of lawlessness and conflict that has hindered reconstruction in many other parts of Afghanistan.
"The security situation in Mazar-e Sharif has been good and we are happy about it," Jawid told RFE/RL. "We do not want Atta Mohammad to be replaced."
Despite his reputation as a strongman who refuses to tolerate opposition and a history of alleged human rights abuses, Noor has been credited and praised by Western officials for bringing criminal groups and rival militia factions under control since he was appointed as Balkh's governor in 2004 by then-President Hamid Karzai.
While Taliban fighters and other Islamic militants have destabilized much of Afghanistan, relative security in Balkh allowed reconstruction programs to move forward and additional international aid to be disbursed in the province.
Major infrastructure development in the provincial capital, Mazar-e Sharif, brought an economic boom that often benefited Noor's political patrons.
That allowed Noor, a former anti-Soviet and anti-Taliban militia commander from the largely ethnic Tajik Jamiat-e Islami party, to become the main source of political power in Balkh Province.
Over time, Noor expanded his political base into other parts of northern Afghanistan.
Preelection Positioning?
Thomas Ruttig, a co-founder of the Afghanistan Analysts Network, is convinced that Noor has aspirations to run for the Afghan presidency in an election scheduled for 2019.
That appears to have prompted an internal power struggle with other Jamiat-e Islami leaders who have presidential aspirations and currently hold positions in Afghanistan's national-unity government, including Foreign Minister Salahuddin Rabbani and Chief Executive Abdullah Abdullah.
Thus, Ruttig says, Noor's removal from the Balkh governor's post represents "positioning before the presidential elections" and positioning within Jamiat-e Islami.
"It is very clear that Atta Mohammad became one of the alternative power centers in Afghanistan using a regional base, which makes the Afghan state unstable," Ruttig says. "From the point of view of the president, Ghani has done something trying to stabilize" the country.
See all News Updates of the Day