Spotlight On Iran
Leaked Memo Fuels New Allegations Of Ethnic Bias In Afghan Government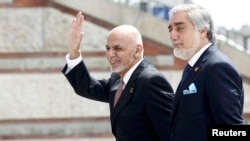 The letter, sent earlier this month by an Afghan police commander, requested recruits for a new antiriot force in the capital, Kabul. Officer candidates should come from the country's main ethnic groups -- Hazara, Uzbek, and Pashtun.
Left out was the country's second-largest ethnicity -- Tajiks.
Now the letter has leaked, published in the Afghan press and circulated on social media, sparking an uproar and provoking new accusations of systemic ethnic favoritism in the administration of President Ashraf Ghani.
The controversy comes with ethnic tensions already running high, spurred on by an unpopular central government divided between Ghani and Chief Executive Abdullah Abdullah, who draws political support from the Tajik community. Ghani, a Pashtun, has been dogged by claims of favoritism and stoking tensions, allegations that he vehemently denies.
In the November 18 letter written by Abdul Fattah Frogh, a commander of the Afghan Public Protection Forces (APPF), he asks officials for recruits for the new force, and pointedly singles out Tajiks.
See all News Updates of the Day